Hylauronic acid
Dermal fillers can be used to replace lost volume caused by ageing for example in the cheek area or to enhance particular features. They can be administered directly beneath lines caused by ageing, to lift and soften them. Nasolabial lines (line from nose to corner of the mouth) for example. It can also be used to enhance existing features, the lips for example or a non-surgical nose job. We only use the highest quality hyaluronic acid fillers, which is a substance found naturally in your own body. Results typically last between 6-18 months depending on the viscosity of the filler used, the area in which it is placed and the individual themselves. It is administered by injection beneath the skin, sometimes under local anaesthetic depending on the procedure.
As we age we lose volume in the mid face due to skeletal changes as fat compartments diminish. This leads to the volume in our faces dropping from the mid face to the lower face. This causes, deeper naso-labial folds, marionette lines to form from the corners of the mouth downwards and to the formation of jowls. One of our most popular treatments at Cometic Perfection is mid-facial volume restoration, which helps to the restore the lost volume and give a lifting effect.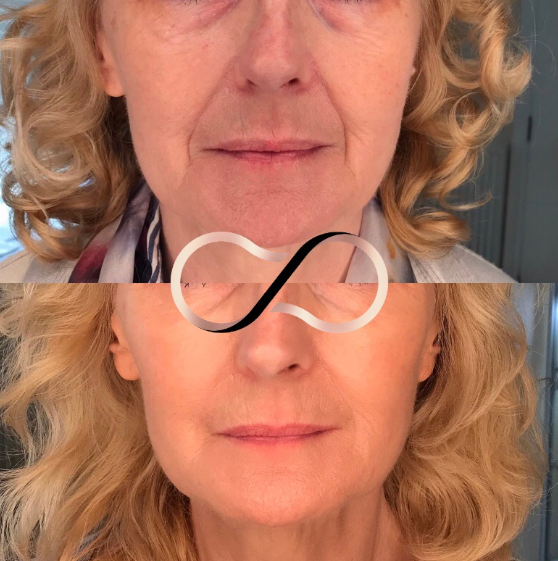 This was the results of mid facial volume restoration with dermal filler and medical grade skincare used at home.
This was the result following jawline definition created with dermal filler
Does it hurt?
Dermal fillers are delivered by a series of injections or by using a cannula. Local or topical anaesthetic can be administered prior to your procedure to make it as comfortable as possible.
When can expect to see results?
You will notice the effects of dermal fillers immediately. The true results will be seen around 2 weeks after the procedure once the filler has had time to settle and also any bruising or swelling will have subsided.
Is there any downtime?
Some bruising and swelling may occur post procedure following the administration of dermal fillers. This has usually fully subsided with 7 days. Bruising is usually easily covered with makeup.
How long do the results last?
Results vary depending on the client and their metabolism, the type of filler used, the viscosity of the filler and the region the filler is placed. Results typically last between 6-18 months based on these factors. As an example in the lip region we would expect filler to last 6-9 months. In the cheeks and jawline filler would last between 12-18 months typically.