Dr Emma McKay BDS MJDF
Clinic Owner
All of our treatments at our clinic are overseen by an experienced dental surgeon, Dr Emma McKay. She has been in general practice for sixteen years and set up Cosmetic Perfection over eight years ago, over which time she has developed her aesthetic skills. She now splits her time between Cosmetic Perfection and private practice, specialising in cosmetic dentistry, Invisalign and implant surgery. Emma provides a range of aesthetic treatments to help deliver natural looking results and a feeling of confidence to her clients, using the safest techniques and the highest quality products.
Dentists have a unique skill set for these procedures, having a good eye for facial aesthetics and carrying out injections in the head and neck region on a daily basis, as well as a comprehensive medical knowledge and anatomical knowledge of the head and neck region.
Dr Emma McKay has extensive training in a whole range of aesthetic treatments. Including advanced training in both wrinkle reduction and dermal fillers from reputable institutions. She is fully insured through Cosmetic Insure. Member of ACE, the Aesthetic Complication Expert Group.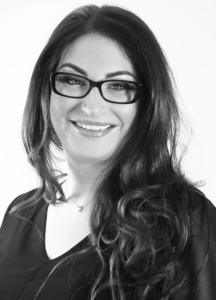 Evette Roberts
Clinic Manager and Aesthetic Therapist
Evette has over 15 years experience in the beauty and aesthetic industry. She believes that everyone deserves to feel good in their own skin. Her passion has always been to help clients achieve their skin goals.
Her experience has taught her that by the time clients have come to her, they are often left feeling confused by fancy packaging, unrealistic promises and over zealous sales tactics. By presenting her clients with factual, evidence based information, she finds it empowers them to make the right decisions for their skin.
Evette is an AlumierMD Pro Skin Expert, she feels Alumier's ethos and values align with her own.
'For me discovering AlumierMD meant finally finding a skincare range that mirrors my own standards. It's medical grade, ethically sourced and clean science is imbedded in all of their ingredients and products'
Evette
Evette is also fully trained in SkinPen Precision, WOW Facial, Advanced Nutrition Programme and Lash Bomb.